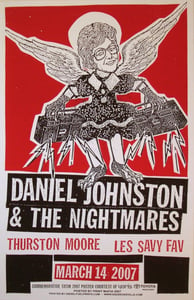 $

25.00
Size: 13x20"
Colors: 2
Edition:
Remarks: Produced in front of the ConventionCentre in Austin with my buddy Andy Stern of DieselFuel prints. If you go to the 'Rabbit Table' in the screenprinting equipment section, there's a pic of Mr. Stern printing this image....at least I think it's this, it might be Mike Martin's, or CNNR/Stainboy, or Bobby Dixon's piece. We had a gallon of Tito's Vodka for printer's lube, the whole week was kind of a blur...
This print is part of an ongoing series of Flatstock Demo Prints produced in partnership with and under the supervision of the artist at the Austin or Seattle Flatstock Rock Poster Shows presented by the API.
Unless otherwise noted, these prints are screenprinted on white paper stock. Colors in the photo are not true to the original. Although all care is taken to ensure this print is of the highest quality, small flaws which are inherent to the process and onsite printing logistics may be present.